Eminem's Camp Defends 'Gunshot' Sound Effects At Bonnaroo Performance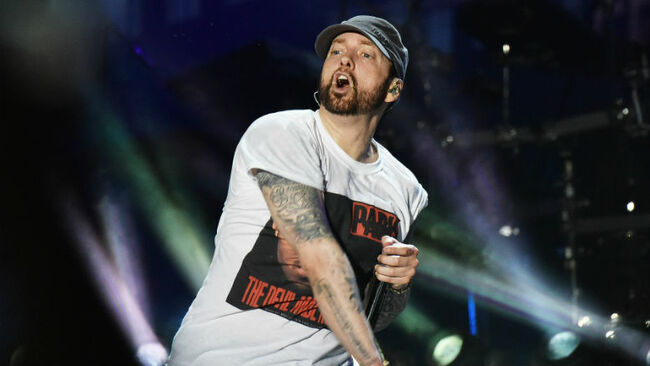 Surprise, surprise: Eminem is at the center of some controversy after festival-goers criticized the rap icon for including sound effects that resembled gunshots during his headlining set at Bonnaroo on Saturday night (June 9).
At the end of his performance of "Kill You," a cut from his acclaimed 2000 album, The Marshall Mathers LP, sound effects similar to gunshots ended the number on a dramatic note, and it wasn't appreciated by everyone in the Tennessee audience. In fact, it gained even more viral momentum when social media star Andrea Russett took to her Twitter timeline to sound off on the controversy. "I hate to be the one to say it, but being someone who suffers from very mild PTSD, it was EXTREMELY irresponsible and distasteful to end songs w the shot gun sound effect," Russett wrote in since-deleted messages. "I have grown up loving eminem and his music but i was extremely triggered to the point of tears."
Nonetheless, Slim Shady's camp has defended the use of the sound effects, which has reportedly been included at the end of "Kill You" for many years now. "Contrary to inaccurate reports, @Eminem does not use gunshot sound effects during his live show," his longtime manager, Paul Rosenberg, admitted in a statement on Instagram. "The effect used by Eminem in his set at @bonnaroo was a pyrotechnic concussion which creates a loud boom. He has used this effect — as have hundreds other artists — in his live show for over 10 years, including previous US festival dates in 2018 without complaint."