Eminem Responds To Machine Gun Kelly's Diss: 'I Wanna Destroy Him'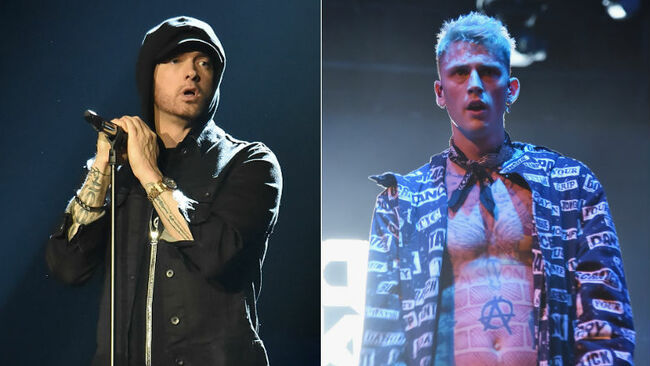 Eminem has responded to Machine Gun Kelly's "Rap Devil" diss in his new "Kamikaze Interview" with Sway Calloway, but it might not be the kind of response that you were hoping for from the hip-hop icon.
In the discussion, which was shared on Wednesday night (September 12), Slim Shady opened up about the beef. "As irrelevant as people say I am in hip-hop, I make them bigger by getting into this thing like—where I'm like, 'I wanna destroy him, but I also don't wanna make him bigger,'" he explained. "Because now you're a f**king enemy. I'll leave it at that. I'm not sure exactly what I'm gonna do at this point right now."
Eminem admitted that MGK's "Rap Devil" is "not bad," but he's not exactly sure if he wants to respond to the entire debacle because it'll only further drain his time. "I'm gonna sit back and I'm gonna wait for a second, because if people start firing off and I try to answer every f**king body I dissed on Kamikaze, or had words about, I'ma be going the next five f**king years making diss song after diss song," Em continued.
As for his beef with Joe Budden, Slim Shady said that Budden doesn't owe him anything, but he felt it was unnecessary for Budden to "trash" his album, especially since Em used to promote Slaughterhouse, the rap supergroup which consisted of Budden, Joell Ortiz, Royce Da 5'9, and Crooked I.